Remembrance Sunday 2014 at the London Cenotaph Image Library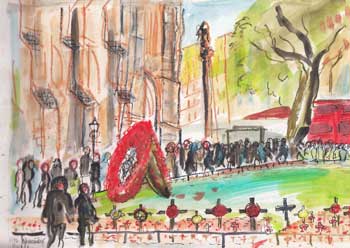 Drawing "Armistice Day at Westminster 2014" copyright © 2014 by
Paulina Little
You may also be interested in the March Past, and the Cenotaph Ceremony 2015, 2013, and 2012.
Only a fraction of the photos taken is online. If you can't find what you are looking for, please email cenotaph@haraldjoergens.com
You can now order not only digital copies and fine art prints - in cooperation with Picture Frame Express you can now order *framed prints, with a frame of your choice! Please email us for details.
Please sign up to the mailing list for information about photography at the Ceremony, before and after the event!
Whitehall, London,


Photo 1411090801205D29443HaraldJoergens
Photo 1411090803361D43090HaraldJoergens
Photo 1411090810095D29445HaraldJoergens
Photo 1411090813281D43093HaraldJoergens
Photo 1411090818411D43099HaraldJoergens
Photo 1411090819471D43101HaraldJoergens
Photo 1411090821291D43103HaraldJoergens
Photo 1411090825425D29453HaraldJoergens
Photo 1411090843301D43117HaraldJoergens
Photo 1411090844421D43119HaraldJoergens
Photo 1411090847221D43126HaraldJoergens
Photo 1411090850395D29470HaraldJoergens
Photo 1411090857405D29475HaraldJoergens
Photo 1411090902081D43140HaraldJoergens
Photo 1411090922081D43165HaraldJoergens