Veterans March Past 2014 at the London Cenotaph Image Library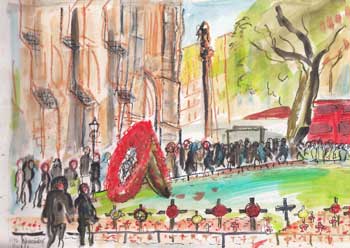 Drawing "Armistice Day at Westminster 2014" copyright © 2014 by
Paulina Little
2,385 large photos showing ALL the groups of veterans that took part.
You may also be interested in the Cenotaph Ceremony, and the March Pasts 2015, 2013, and 2012.
Only a fraction of the photos taken is online. If you can't find what you are looking for, please email cenotaph@haraldjoergens.com
You can now order not only digital copies and fine art prints - in cooperation with Picture Frame Express you can now order framed prints, with a frame of your choice! Please email us for details.
Please sign up to the mailing list for information about photography at the March Past, before and after the event!
"The British Resistance Archive and Coleshill Auxiliary Research Team is really pleased with the images taken by Harald Joergens. This is the second year he has captured our marching party and they really allow us to remember the event for years to come."
Tom Sykes,
British Resistance Archive / Coleshill Auxiliary Research Team
Whitehall, London,


Photo 1411091155441D47131HaraldJoergens
Photo 1411091155441D47134HaraldJoergens
Photo 1411091155451D47136HaraldJoergens
Photo 1411091155471D47139HaraldJoergens
Photo 1411091155481D47141HaraldJoergens
Photo 1411091155491D47143HaraldJoergens
Photo 1411091155501D47145HaraldJoergens
Photo 1411091155511D47148HaraldJoergens
Photo 1411091155521D47151HaraldJoergens
Photo 1411091155531D47154HaraldJoergens
Photo 1411091155551D47157HaraldJoergens
Photo 1411091155561D47161HaraldJoergens
Photo 1411091155571D47164HaraldJoergens
Photo 1411091155591D47167HaraldJoergens
Photo 1411091156001D47169HaraldJoergens